About The Ancestor
• Hardcover:
368 pages
• Publisher:
William Morrow (April 7, 2020)
From the New York Times, USA Today, and internationally bestselling author of the Angelology series comes a bewitching gothic novel of suspense that plunges readers into a world of dark family secrets, the mysteries of human genetics, and the burden of family inheritance.
It feels like a fairy tale when Alberta "Bert" Monte receives a letter addressed to "Countess Alberta Montebianco" at her Hudson Valley, New York, home that claims she's inherited a noble title, money, and a castle in Italy. While Bert is more than a little skeptical, the mystery of her aristocratic family's past, and the chance to escape her stressful life for a luxury holiday in Italy, is too good to pass up.
At first, her inheritance seems like a dream come true: a champagne-drenched trip on a private jet to Turin, Italy; lawyers with lists of artwork and jewels bequeathed to Bert; a helicopter ride to an ancestral castle nestled in the Italian Alps below Mont Blanc; a portrait gallery of ancestors Bert never knew existed; and a cellar of expensive vintage wine for Bert to drink.
But her ancestry has a dark side, and Bert soon learns that her family history is particularly complicated. As Bert begins to unravel the Montebianco secrets, she begins to realize her true inheritance lies not in a legacy of ancestral treasures, but in her very genes.
Review
Alberta Monte is at a crossroads in her life. She has found that her marriage has fallen apart after several miscarriages and a recent stillbirth. Worse, there is no explanation for her inability to reproduce successfully. So, when Alberta receives a letter addressed to the Countess Alberta Montebianco from her family's ancestral land of Nevenero, Italy saying she is the heir to a title, castle and money, she dives in. Before leaving for Italy, Alberta finds out more about why her grandfather left Nevenero and finds a story full of danger, tragedy and folklore. Alberta is whisked away on a private jet to her castle and finds that she has a living aunt and great-grandmother. However, along with the dazzling castle, comes a host of dangerous secrets, secrets that Alberta will have to accept and protect.
The Ancestor is a deeply atmospheric Gothic thriller that uniquely combines elements of horror and folklore for a completely unexpected look into family history and duty. The writing slowly and deftly builds tension with unlikely stories, isolation, dangerous conditions and an unraveling of family secrets. Alberta's character is one of immense transformation. Though her transformation does not take a typical route, it is all necessary in Alberta's journey. I enjoyed that the underlying theme was in science, with genetics and finding your true self while discovering your ancestors. I was astounded by the landscape of Mont Blanc and the communities of the Aosta Valley. I could picture the imposing castle casting a shadow on the small towns below, unchanging through the centuries. I can easily imagine how the folklore of the Icemen developed. At some points, I thought I had the mysteries solved, but there were surprises until the very end. The Ancestor is a transporting, surprising story that will take you on a journey like no other.
This book was received for free in return for an honest review.
Social Media
#theancestor, and tag @tlcbooktours, @williammorrowbooks, and @danielletrussoni.

Purchase Links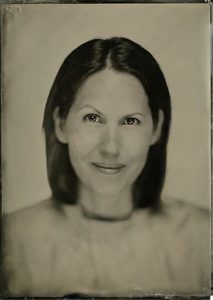 Photo by Oren R. Cohen
About Danielle Trussoni
Danielle Trussoni is the
New York Times
,
USA Today
, and
Sunday Times
Top Ten bestselling author of the supernatural thrillers
Angelology
and
Angelopolis
. She currently writers the Horror column for the New York Times Book Review and has recently served as a jurist for the Pulitzer Prize in Fiction. Trussoni holds an MFA in Fiction from the prestigious Iowa Writers' Workshop, where she won the Michener-Copernicus Society of America award. Her books have been translated into over thirty languages. She lives in the Hudson River Valley with her family and her pug Fly.
Find out more about Trussoni at her
website
, and connect with her on
Instagram
,
Facebook
, and
Twitter
.