About Little Wonders
• Paperback:
384 pages
• Publisher:
William Morrow Paperbacks (March 17, 2020)
If you like SMALL ADMISSIONS by Amy Poepell or CLASS MOM by Laurie Gelman you will love this novel about super mommies, private schools, and getting your worst moment plastered across the internet.
Her mommy meltdown is seen around the world!
When Quinn Barrett's son refuses to wear his hand-crafted costume to the Little Wonders Preschool Happy Halloween Parade and Dance Party she loses it -- complete with stomping, screaming, and costume-destruction galore. Not her best day. And caught on viral video. Yep, "Halloween Mom" is now internet famous.
The posting culprit: tattooed, blue-haired, west-coast transplant Daisy McGulch, out of place in the posh New England town and unable to blend with the other perfect mommies of Little Wonders Preschool.
While she couldn't care less about organic snacks (paleo-preferred) or the winter quarters of the Little Wonders chickens, she's not about to admit she's the one who accidently brought Quinn's worst moment to the entire world—she'd be kicked out of town!
But when Quinn and Daisy find themselves unlikely cohorts in the fight for Little Wonders Parents Association supremacy, they also discover they have more in common than they expected…but the internet is forever. Can Quinn live down her new reputation? And how far will Daisy go to keep the truth from coming to light?
Hilarious, clever, and unforgettable
, Little Wonders
offers a glimpse into the high-pressure world of modern momming, with natural toys, scrutinized playdates, PTA politics, and social media gone amok.
Review
Quinn Barrett strives for perfection. It's her personal mantra, to appear perfect, to be perfect for her husband, her son, her work life and as the president of the Little Wonders Preschool Parent Association. The next perfect event she needs to pull off is the Little Wonders Happy Halloween Parade and Dance Party. However, when her three year old son Hamilton would rather not wear the perfectly hand crafted spaceship costume Quinn made, she has the mother of all tantrums. New Preschool mom, Daisy captures it all on video only to have it quickly spread around online putting Quinn in internet infamy. Daisy is an L.A. transplant and does not fit in the posh suburb of Needleton with her electric blue hair and tattoos. She wants the best for her daughter Carrie, but is finding it hard to be herself. Daisy feels awful for sharing the video of Quinn, but also finds a friend in the now outcast Quinn and is finally finding her place in Needleton.
As a mother of a four year old, many of the themes in Little Wonders hit home for me. The first part of the book was a little hard to read as Quinn's character dominates with her endeavor for perfection. I could feel the stress that Quinn placed on herself and everyone around her emanating off of the page. It was difficult to connect to any of the characters at first because they all seemed like awful people. I still felt bad for Quinn as the video was posted online and blown severely out of proportion. However, after Quinn stopped striving for perfection everything lightened up and I really enjoyed reading the second half of the book. Her growth was amazing and I liked watching her relationship grow with her son and Daisy. As the point of view switched between Quinn and Daisy, I appreciated Daisy's journey in finding herself, losing herself and finding herself again. Little Wonders serves as a reminder to all moms that we need to stop taking life so seriously, enjoy all the imperfections in life, embrace humor, and find a really good group of mom friends.
This book was received for free in return for an honest review.
Social Media
Please use the hashtag #littlewonders, and tag @tlcbooktours, @williammorrowbooks, and @noblerorick.

Purchase Links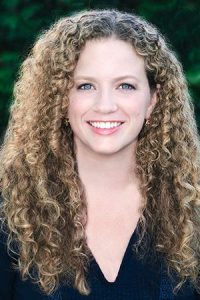 About Kate Rorick
Emmy Award-winning writer Kate Rorick is the author of novels about modern motherhood. She is also a television writer and producer, most recently for
The Librarians and Marvel's Cloak and Dagger
. She is one of the writers behind the runaway YouTube sensation
The Lizzie Bennet Diaries
, and authored its two tie-in novels. In her vast spare time she is a bestselling author of historical romance, under the name Kate Noble. She lives in Los Angeles with her family.
Find out more about Kate at her
website
, and connect with her on
Instagram
,
Twitter
, and
Facebook
.