Join us for a fun tour with reviews accompanied by progressive excerpts on the blogs and a game of finding out your "Black Lake name" on Instagram!


About Daughter of Black Lake
• Hardcover: 320 pages
• Publisher: Riverhead Books (October 6, 2020)
In a world of pagan traditions and deeply rooted love, a girl in jeopardy must save her family and community. A transporting historical novel by New York Times-bestselling author Cathy Marie Buchanan.
It's the season of Fallow, in the era of iron. In a northern misty bog surrounded by woodlands and wheat fields, a settlement lies far beyond the reach of the Romans invading hundreds of miles to the southeast. Here, life is simple–or so it seems to the tightly knit community. Sow. Reap. Honor Mother Earth, who will provide at harvest time. A girl named Devout comes of age, sweetly flirting with the young man she's tilled alongside all her life, and envisions a future of love and abundance. Seventeen years later, though, the settlement is a changed place. Famine has brought struggle, and outsiders, with their foreign ways and military might, have arrived at the doorstep. For Devout's young daughter, life is more troubled than her mother ever anticipated. But this girl has an extraordinary gift. As worlds collide and peril threatens, it will be up to her to save her family and community.
Set in a time long forgotten,
Daughter of Black Lake
brings the ancient world to life and introduces us to an unforgettable family facing an unimaginable trial.
Social Media
#daughterofblacklake, and tag @tlcbooktours, @riverheadbooks, and @cathymbuchanan.

Review:
In Iron Era Briton, the season of Fallow is upon the small community of Black Lake. The small community works the land, hunts, forges iron, and lives off of the land; protected by and ruled over by their gods. Sacrificing to them when rain does not stop or fields do not grow is part of their everyday life. For Devout, Mother Earth is her provider. Devout came of age that Fallow and is able to seek a mate. With this comes a choice, mate with Arc, a fellow field hand or a tradesman, Young Smith. As Devout is choosing, change is coming to Black Lake. A Druid comes to tell of the impending Roman invasion and most of the Smith clan goes to fight. Seventeen years later, Devout's daugher, Hobble sees the Roman's arrival in one of her visions. When a druid again shows up to Black Lake, he wants to use Hobble's visions to incite the villagers to fight.
Daughter of Black Lake weaves together the coming of age stories of mother and daughter for an intimate portrait of life within an Iron Age settlement. The point of view switches between Devout and Hobble as young women giving a progressive view of Black Lake and the people there. I enjoyed reading about the day to day activities of Black Lake and how much their beliefs in the four gods of Protector, War Master, Begetter, and Mother Earth affected their daily lives. I was enthralled by Devout's devotion to Mother Earth and the rituals she followed as well as Hobble's gift of sight and how she used it. The writing had immersed me in the lives of the people of Black Lake and their daily struggles and successes. While they lived a very different life from us, the uncertainties they faced and bonds they made felt very similar to life today.
This book was received for free in return for an honest review.
Purchase Links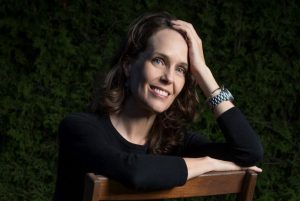 Photo credit Heather Pollack
About Cathy Marie Buchanan
Cathy Marie Buchanan is the author of the nationally bestselling novels The Day the Falls Stood Still and The Painted Girls. She lives in Toronto.
Find out more about Cathy at her
website
, and connect with her on
Facebook
and
Instagram
.
Read An Excerpt:
​Once he was gone, she slumped onto the trunk of a fallen beech. Had Young Smith set her reeling in quite the same way? Was that reasonable to ask when, as far back as she could remember, she had toiled in the fields with Arc? She knew she was prideful, aspiring. With the amulet on her palm, she had been uncharitable toward Reddish, jealous in truth. Was it only pride that had driven her to so recklessly want the amulet, to desire Young Smith? She sat there, stroking leaf litter and decay. She whispered to Mother Earth, promising humility and the amulet returned to Young Smith until she better understood her mind.
She turned her thoughts to the words she would speak to Young Smith and reached into the pocket of her cape, anticipating the craftsmanship, the grace. Her fingers felt only hide, the threads holding the pocket in place. She probed each corner, the emptiness. She held open the pocket and looked, but the amulet was not there. She fell to her hands and knees, hunting among leaf litter as the sun fell lower still, and then grazed the horizon. She galloped down the steep slope of Edge—feet flying, stumbling, catching herself. At the place where Young Smith had given her the amulet, she dropped again to her knees and searched until the sun was gone, until there was scarcely time to make it back to the clearing and begin the collection rounds with the other maidens—her hair dull and tangled, her skin ripe with the odor of panic and toil.
She wept, face in her hands, but only for a moment. Then she wept as she ran through the woodland and then across the clearing to her roundhouse and the fresh, sweet scent of the rushes newly laid over the earthen floor, spread there in deference to Mother Earth.
What would Devout say to Young Smith? How would she ex plain the cross that did not rest against her throat, that she had not returned to him? Oh, how he would despise her, she who had lost his prize.