Dark Post-apocalyptic Romance
Date Published: 4/21/2020
Fading into unconsciousness, Christian watches psychotic thugs drag his sister-in-law and nephew away to suffer in the city they just escaped. Left for dead near his brother's corpse, he has but one hope for survival, rely on the pretty stranger who stumbled across him. Not exactly smart after the apocalypse.
Encumbered by the lingering effects of her own violent past, Chloe struggles against her need for independence. Trusting a stranger found lying in the snow is risky, to say the least. Yet, she patches him up.
As they strive to rebuild their hearts, the harsh world they've been thrust into promises to tear them apart. Because Christian's rescue attempt can't wait. Every second in Chloe's idyllic hometown means another second of pain for Christian's family, leaving Chloe with a choice. Risk her life to help Christian save his family? Or condemn them all to a slow death?
About the Author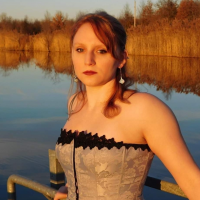 Elexis Bell is a quiet nerd with too many hobbies, including everything from gaming to shower-singing and even archery, weather permitting. She specializes in sarcasm and writing stories that make people feel. She's made a home for herself with her husband, their dog, and a small army of cats.